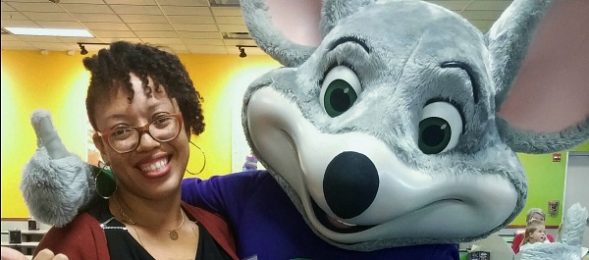 The Best Kept Secret About Chuck E. Cheese's Birthday Parties
My youngest daughter just had her 9th Birthday party at Chuck E Cheese's. And while I know she had a ball, I secretly think I enjoyed it more.  And here's why:
Easy Planning
I was literally able to go on-line one afternoon (while at work) and plan the entire party: the theme, the food, the gift bags, the entertainment, the cake and more.  I just had to select one of Chuck E. Cheese's party packages, the date and time, and pay the deposit. I was even able to email invitations from their website.  From then on, I only had to purchase a gift and show up with my family.
I could literally stop right here, because this is reason enough for a busy mom to love a Chuck E. Cheese's party…bit there's more.
Fun Games
Playing the games was the highlight of the party for my kids. They were given more than enough tokens (included in the party package) and they played until their hearts were content. I always pick a week night to visit Chuck E. Cheese's because the crowds are normally smaller.  So we had our run of the place as we played our favorite games.  And nobody (and I mean nobody) could beat mommy on her favorite game, ski-ball.  And I challenged everyone…from the youngest kids to all of their parents. But, mommy reigned supreme with a high score of 32,000 points and a hand full of tickets to share with the birthday girl.
Great Food
If you haven't heard, Chuck E. Cheese's  brought on celebrity Chef Gregory Casale to completely revamp their menu and provide more "grown-up options" that will appeal to adults (especially moms.) So yes, the kids enjoyed their pepperoni and cheese pizza.  But I also enjoyed their new Cali Alfredo pizza (creamy Alfredo sauce and whole milk mozzarella with fresh spinach, Italian sausage, grilled chicken breast and fresh mushrooms) and the boneless oven-baked wings.  Yummmm!
We want to give the parents an extra reason to say 'yes' [to coming to CEC] and what better way than through the food. We've elevated the food so that it appeals to moms and parents. ~ Chef Gregory
So the best kept secret is that while Chuck E. Cheese's main priority has always been to make kids happy, they have made a lot of changes to improve the experience for the parents…from stepping-up their food game with the new menu items to offering free wi-fi. So while the kids played during the party, I was able to just sit back, relax, eat good food, and talk to my cousins.
BMWK – When was the last time you've been to Chuck E. Cheese's? Are you surprised to learn about all of the great changes they've made?
Disclosure: This post is sponsored by Chuck E. Cheese's. I'm a #ChuckEChampions Brand Ambassador for 2016-2017 and I've partnered with them to share with you all of the exciting changes the they are making. All opinions are my own. 
---
More available at BlackandMarriedwithKids.com. Link to article https://blackandmarriedwithkids.com/2017/02/the-best-kept-secret-about-chuck-e-cheeses-birthday-parties/?utm_source=rss&utm_medium=rss&utm_campaign=the-best-kept-secret-about-chuck-e-cheeses-birthday-parties.