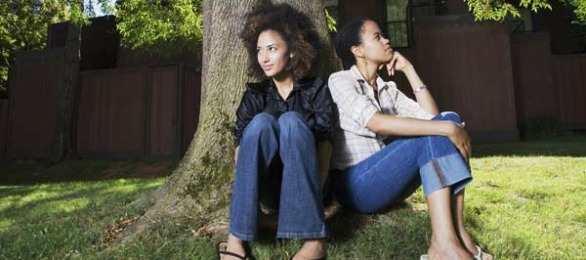 He's Mine! How to Avoid Breaking the Girl Code in Dating
What would you do if a guy at your church took your friend out on a date, but they don't hit it off and they decide to just be friends. A few months later, he meets you at a singles mixer and you discover there's a lot of chemistry between you both. He asks you out and you accept!
Sisters come before misters.
When your girl finds out, she's lit, but you don't understand why. She didn't even like the dude, right? Why should she feel like this guy was hands off, especially when she knows that good men are hard to find, especially in your small town church.
Well, sis, your friend is upset because you just broke the Girl Code, which is the unspoken rule which says "sisters come before misters."  In other words, if you're a true friend you won't:
Date your best friends' ex
Date your ex's friend
Date your friends' current love interest
Date your friend's potential love interest
Date anyone your friend thought about dating
This code of conduct is supposed to protect your friendships in a world where dating and relationships can be unpredictable and no one gets the man! But are there ever any times when the girl code should be broken for love?
Is the Girl Code Flexible?
I actually believe some of the rules around dating and the girl code can be flexible, but only if you ask yourself these questions:
Was your friend in a real relationship with this man?
If yes, how long did the relationship last?
How did it end?
How does your friend feel about you being involved with someone she dated?
Are you willing to lose your friendship in order to pursue this relationship?
Let's apply these questions to the scenario above.
We often feel possessive over someone we've been emotionally connected to, but your friend went on one lackluster date with a guy. They didn't have a real relationship, otherwise it would be easy to see why she may feel like she can claim him.
What isn't clear, however, is how things ended between them. Did she want to see him again? Did he tell her there wasn't enough chemistry to move forward together? Or did he just disappear, leaving her hurt and disappointed? If the feeling that they weren't a good match was mutual, then she may only be pretending to care about him now that he's interested in you.
Finally, have you talked to your friend about your date, or did she have to find out from someone else? Did he know you were both friends when he asked you out, or did you withhold that information from him? Remember, secrets destroy relationships, so it's best to communicate directly with everyone involved.
If your friend is really upset about your date, but you really want to explore a relationship with this guy, then be prepared to have to choose between your friendship with her and a relationship with him in the future. Friendships can become strained over romantic relationships. If you feel this man is worth the loss of your best friend, then go for it. If not, then explore other options outside of your church.
BMWK, is it ever ok to date a friend's ex? Post your answers below! 
---
More available at BlackandMarriedwithKids.com. Link to article https://blackandmarriedwithkids.com/2017/03/singles-hes-mine-how-to-avoid-breaking-the-girl-code-in-dating/?utm_source=rss&utm_medium=rss&utm_campaign=singles-hes-mine-how-to-avoid-breaking-the-girl-code-in-dating.