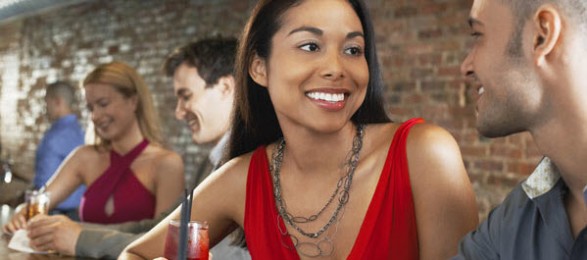 5 Ways to Get Out of Your Dating Dry Spell
According to Neil Clark Warren, the founder of the dating site eHarmony, over 50% of all singles in America have not had a date in more than two years. Based on my work as a dating coach, I've discovered that many singles aren't actively dating because they don't want to appear desperate or "thirsty." But when you go years without so much as a coffee date, you're the one causing your thirst for love!
I want to help you break your dating dry spell and get back in the game with confidence. Use these 5 proven ways to meet new people today:
Ask your friends and family to play matchmaker
Reach out to your network, and ask someone you trust to introduce you to someone they think would be a good fit for you. It's an easy, low-pressure way to get back in the dating scene. In fact, a study from the University of Chicago reported that people were twice as likely to get a date through friends and family than through the club scene.
To get started, write a list of your top 100 friends and family and tell them: "Can you help me? I'm ready to meet someone special and I'd rather go out with someone I know you think is good for me. Who do you know?"
Be sure to specifically describe the kind of person you'd prefer to meet so you don't end up on a blind date with somebody who's been living in their mama's basement for 20 years, and she's ready to marry him off!
Change up your regular routine so you have opportunities to meet more people
Home, work, church, home, grocery store, home.
Repeat.
Does that look like your typical work week?
If so, you're stuck in a rut and the chances that you'll bump into someone special is slim to none. One of my clients took my advice to heart. She was 45 and hadn't had a date in 5 years before working with me.
After she complained that she never sees any great guys to talk to, I asked her to describe in detail what her entire week looked like. Turns out she spent most of her time commuting to work, grocery shopping in a neighborhood where there were mostly families, and visiting her mother on the weekends. We looked for ways where she could shake things up and create opportunities to meet men everywhere she went.
One of the things she decided to do was stop using the Full Service gas station and go to a self-service station. That very day, a handsome man flirted with her while they pumped gas!
You've got to do something different if you want to meet someone different.
Get out of the house on the weekends
Don't waste your weekends on your couch, eating Godiva ice cream and catching up on Greenleaf episodes! Create wow experiences that not only cause you to love your life, but also allow you to meet new people. Don't go out expecting to bump into your future spouse; instead, find a meet-up of people who share a common interest and go have fun! Happy people are attractive, so do something that brings you joy.
Position yourself to be found online
Dating apps are like having access to a 24/7 singles-only party at your fingertips. Spend a little time researching the culture of some of the sites before you join…. because some of them feel more like the club, while others are like meeting someone in the library.  You want to make sure that the people on these sites align with what you want in a partner.
I highly recommend online dating, because when you do it correctly, you can quickly meet quality men, and you can control the amount of time you spend on dating. Instead of running around town, trying to figure out where all the quality men hang out, or waiting for the man of your dreams to walk through the doors of Starbucks, you could connect with the person of your dreams by simply sending a message into their inbox.
Slide into someone's DM on social media
Speaking of inboxes, don't sleep on social media! If you're the confident type, go ahead and shoot your shot by sliding into someone's DMs online. What this basically means is that you initiate conversation with that cute guy you saw on Facebook by saying "hello."
But before you do, check out his timeline to make sure he isn't already married or in a relationship. And keep your first message simple. Just say hello, give a compliment about something specific you saw on his timeline, and wait to see if a conversation develops.
You could also check to see if you have a mutual friend and ask that person to introduce you to your Facebook crush.
There's an inertia to being single: The longer you go without dating, the easier it is to just not be bothered. To create momentum and end your dating drought, you have to make the decision to just get started. And before you know it, you'll be a dating machine!
BMWK, which tip will you try to start meeting new people? I'd love to coach you through it, so ask me your questions below. 
---
More available at BlackandMarriedwithKids.com. Link to article https://blackandmarriedwithkids.com/2017/04/single-5-ways-to-get-out-of-your-dating-dry-spell/?utm_source=rss&utm_medium=rss&utm_campaign=single-5-ways-to-get-out-of-your-dating-dry-spell.