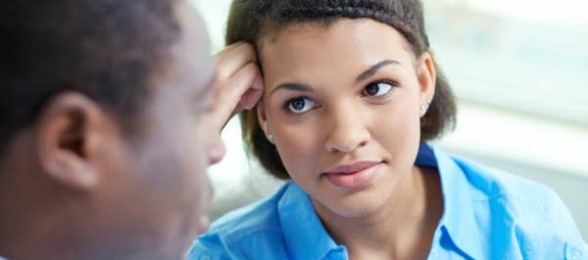 11 "Not So Easy" Topics Every Married Couple Needs to Discuss
Somewhere in the world right now, there is a couple arguing about one of these topics. And while I can't answer any of these questions for you, communication and compromise are key.
1. Can you still have opposite sex friends?
Some say yes…because many friendships are platonic.  And some say no…because it's a set up for infidelity or it's disrespectful. What do you think? What are the boundaries?
2. How much time should you spend with your single friends?
Some would say single friends are nothing but trouble for married people because of the season they are in and the undue influence. Others say it doesn't matter because friendships shouldn't have to end once someone gets married. What's the compromise in your mind?
3. Should you tone down your sexy?
Some say if I work for it (or bought it) I earned the right to show off all my sexy. Others say when you become a wife or husband you should tone it down so as to not get that kind of attention. Y'all tell me…what do you think?
4. Are conversations with exes still okay?
Some say he or she might be an ex, but now their relationship is strictly that of friends. Others say once you cross that line there isn't any un-crossing it and being friends with your ex isn't cool. I'm sure there isn't a one size fits all answer, but I'm interested in hearing thoughts!
5. Should your spouse have access to all your social media and passwords to your phone?
Some folks think being married is not synonymous with forgoing all privacy, while others say once you're married there is no privacy between spouses. I'm sure y'all have some opinions on this one!
6. What time is it "disrespectful" to come back in the house?
If you have a boys' or girls' night out is there a married people's curfew? Some say like your mama used to say that "ain't nothing good happening after midnight in the streets!" Is there a time that coming in after gets to be "disrespectful?"
7. How much time is too much time with your boys/girls?
One of the things that causes lots of arguments is when your spouse spends too much time with their squad. Well what is too much time? What if they still spend appropriate time with you as well, is it still an issue?
8. Can you still go out of town without your spouse?
Should you be going on girls' and guys' trips without your spouse? Should you be going to social events out of town without your wife or husband by your side? Some say for sure and others don't like it. What do you think?
9. How much sex should be expected?
Some people say if you get married sex should be on the table at any time, while others say it's unreasonable to expect sex numerous times during a week because of work, kids, responsibilities, and just being tired. How come frequency of sex seems to be such a big issue?
10. Can you have a "work wife' or "work husband?" Is this okay, or out of bounds?
Is this kosher or just off limits?
11. How much marital business should be shared with friends or family?
Some people think it's okay to vent to parents, siblings or friends about strife going on in the marriage while others say everything that happens in the marriage should stay between the husband and wife ONLY. This one causes all kinds of arguments so what's the answer?
So, these are 11 controversial topics that consistently come up in marriages around the world. And although I didn't offer up any advice about them, I think they must be discussed. My point is that issues in marriage are more universal than we think and you aren't in it alone, but communicating expectations is the key. Each couple may see these things differently but the compromise will only happen through clear communication!
BMWK Family what are your thoughts? How would you answer the questions above.
FREE TRAINING FOR BETTER COMMUNICATION:
Stop Fussing & Fighting: 5 Keys to Successful Communication in Your Marriage – You'll Learn the Most Important Steps to Stop Fussing & Fighting and to Finally Feel Heard In Your Marriage! If Your Marriage Needs Better Communication This Is for You! Click here to get started!
---
More available at BlackandMarriedwithKids.com. Link to article https://blackandmarriedwithkids.com/2017/06/communication-11-not-so-easy-topics-every-married-couple-needs-to-discuss/?utm_source=rss&utm_medium=rss&utm_campaign=communication-11-not-so-easy-topics-every-married-couple-needs-to-discuss.