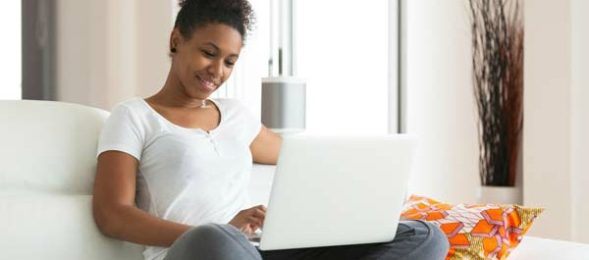 The Shy Girl's Guide To Sliding Into His DMs Without Looking Thirsty
Do you have a social media crush and you're wondering how to slide into his DM's and start a conversation without looking too thirsty or desperate? Maybe you're afraid he might already be married or you just don't know what to say to him and you're scared you'll look ridiculous.
I got you girl!
Here's the shy girl's quick and easy guide to flirting on social media.
1. Create an authentic connection first
You can come across as a social media stalker if you just dive right into his DM before you've even sent a friend request. If he's just a crush or someone you just met, spend some time liking, tweeting, and double tapping photos first. You'll discover whether you have mutual interests and you'll have something specific to talk about instead of just saying, "Hi, you're cute!" And, you're more likely to avoid being sent to the "message requests" folder.
2. Send a direct message when you know he's online
You'll feel anxious and awkward if you send a message at 1 am and it sits there for 3 days with no reply, because you'll have no idea if he just didn't see it, or he's not interested. Instead, you should strike while the iron is hot!
If you noticed he just liked a photo or tweeted about something you like, you can slide into his DMs with something like, "I'm excited to see Wonder Woman too! You are so dope. Hi, I'm Kesha." Sending a message while he's online also gives you something real to talk about and you won't come across as doing too much to get his attention.
3. Flirt with a meme
Don't know what to say? Send a meme! Find something that fits your sense of humor and his interests. The goal is just to get him to open his messages, look at your profile and write you back. Think of it as a wink to get the conversation started.
4. Ask simple questions to find out if he's single
Because you don't want his wife to send you screenshots of your conversations with her man, asking you why you're all up in his DMs, right? So ask hm a few simple questions, like, "What do you do in your downtime? Do you have family? What's your favorite coffee shop in San Antonio?" Keep it casual, so you don't look like you're being nosey, but make sure you ask. Never assume!
5. If he's single, take the conversation offline
If he doesn't ask you first, then you need to open the door for him to ask you out by saying something like, "I wonder if I'd recognize you if I saw you walking down the street. We should meet up to find out!" Then let him make all the arrangements.
6. Don't get too attached to the outcome
Flirting is all about being in the moment. If you're scared of rejection, it'll be hard to be your playful, fun self. If the first DM conversation doesn't work out, just keep it moving.
You may be shy or consider yourself "old-fashioned." But if you want to meet someone these days your flirting methods can't be outdated. Go ahead, girl. Slide into the DMs! You may be one of the next "We Met On Instagram (Snapchat, Facebook, Twitter)" love stories.
BMWK, have you ever gone out with someone you met on social media? Who made the first move? 
---
More available at BlackandMarriedwithKids.com. Link to article https://blackandmarriedwithkids.com/2017/06/single-the-shy-girls-guide-to-sliding-into-his-dms-without-looking-thirsty/?utm_source=rss&utm_medium=rss&utm_campaign=single-the-shy-girls-guide-to-sliding-into-his-dms-without-looking-thirsty.