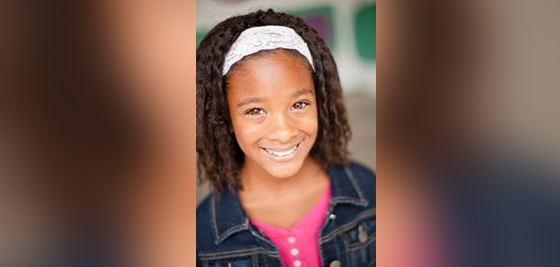 Meet the Youngest Female African American Author, Alena Pitts
Dallas, Texas— April 25, 2017— Faithgirlz is excited to announce a book series from its newest author, Alena Pitts. Readers might be familiar with Alena, the young actress who stole hearts in the hit film War Room.  Alena, who is also a model and a guest contributor with For Girls Like You magazine and Jamie Grace's God Girl's Club, can now add a new title to her already impressive resume: Published Author. The twelve-year-old is the youngest Christian African American female published author, and she is debuting her writing talent with her new series, Lena in the Spotlight from Faithgirlz.
"Honestly, it feels a little strange to have my stories published, but at the same time I'm super excited and can't wait to see how God uses this series to reach other girls," said Alena Pitts.
Lena in the Spotlight is co-written with Alena's mother, editor and author, Wynter Pitts.  "My prayer is that while girls will enjoy the twists and turns of Lena's movie-making adventure, they will also become aware that God has a unique plan and purpose for their lives and it will always include loving those around them," said Wynter Pitts.
The series is a reflection of Alena's own life experiences as she reaches for the stars and keeps her faith in balance.
"We're thrilled to have Alena Pitts as our newest Faithgirlz author," said Annette Bourland, Senior VP and Publisher with Zonderkidz. "Alena is a bright and shining role model for our pre-teen readers. She uses her many talents to share her faith and touch the lives of others. She knows what matters to the hearts of girls because she is one."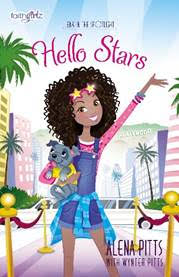 The series begins with Hello Stars, releasing in April 2017. Young Lena Daniels never thought she'd get the chance star in a movie. Headstrong and determined, she has her life planned out to the minute. But when her best friends, Savannah and Emma, tell her about an audition for a part co-starring her favorite singer, she knows there's nothing else in the world she'd rather do. And now that she's gotten her wish, Lena finds that being in the spotlight is harder than it sounds. She got everything she never wanted! Her face turns up everywhere she goes, and everything in her life is flipped upside down. Lena wonders if this is a dream come true or a horrible nightmare. Even a visit from her best friends during filming turns into a disaster. With her little sisters—Ansley, Ashton, and Amber—and her mischievous pup, Austin, constantly at her side, Lena must face the challenges of everyday life while chasing her dreams of being a model and actress on the big screen. Lena tackles tough choices, learns the value of perseverance, and keeps her hopes high. She knows her faith and family will keep her feet on the ground and her eyes on the stars.
 Hello Stars is available in softcover for $8.99 at retailers nationwide and online on April 25, 2017. Pre-orders begin on January 25, 2017.