News Flash: Fame and Fortune can't Buy Happiness
If only money and fame could solve all of our problems…unfortunately they don't. Ever sat on your couch watching "the stories" on the small screen then you've witnessed the drama of how mo' money brings more problems. Before you say that's just TV, someone who seemingly had it all in Hollywood is now showing us the other side. Remember Drucilla Winters from the Young and the Restless? Actress and advocate Victoria Rowell is on Café Mocha this week discussing everything from her life in foster care, lawsuit against Y&R and her brand new black soap opera.
Now, if you're one of those people that thinks having more must be better, our Girlfriend-on-the-Go, Deya Direct challenges this concept this week when she asks What's in Your Closet…?
Reclaiming Her Voice:  Victoria Rowell Reveals "Rich and the Ruthless"
Actress, writer, producer, and dancer Victoria Rowell
It takes a lot of heart to speak up for what you believe is right in the workplace. Is it even worth saying anything if it costs you your job?
Well, Victoria Rowell is one daytime diva that is determined to make sure her show goes on no matter what. And, just in case you thought it was all glitz and glam in Hollywood, she's got another story to tell.  Read More
Redefining What Perseverance Looks Like From Inside Out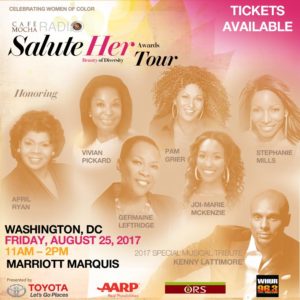 2017 Salute Her Awards DC Event Slider
Women are constantly demonstrating passion, creativity and drive to break down barriers in their respective fields. Meet the Salute Her DC honorees who truly redefine what perseverance looks like!                                                                                        Read More
Girlfriend-on-the-Go:  What's in the Closet of Your Heart?
Read More
If your physical closet was a metaphor for what's going on in the closet of your heart & mind, what would it reveal about you?
Quotes That Give Us Life!