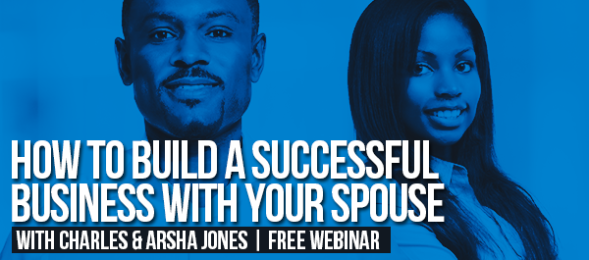 Free Couples Webinar: How to Build a Successful Business with Your Spouse
When a husband and wife embark on a business venture together, it adds a unique dynamic to their relationship.  The idea of working with your spouse seems exciting, but the reality is it can lead to great success or great failure for the business and the marriage alike.
Given the incredible 50 percent divorce rate in this country, it is never smart to add more stress than necessary to your marriage. But building a successful marriage and a successful business with your spouse is not an impossibility.  Just ask Charles and Arsha Jones – founders of Capital City, LLC.  Charles and Arsha have grown their home-based business into a successful company that provides a beloved product from their childhood to people all around the world.
Join us on, Tuesday, October 17th at 9 PM ET for a FREE LIVE WEBINAR where we'll be discussing:
The biggest mistakes people make when they became full time entrepreneurs (so you don't do the same thing.)
How to leave your current job to follow your passion, find your purpose and finally begin building wealth and freedom.
How to work together as a team.
The top three things you need to invest in to begin making real money.
How to build a thriving business without destroying your marriage in the process.
We've been collaborating with Wells Fargo for years now.  And when they learned it was our 10-year anniversary, they asked "How can we support you?" And so we joined together this year to bring our BMWK family a Couples Financial Empowerment Series that started with a Financial Intimacy Panel earlier this summer and will continue with two awesome webinars.  And here are the details for the first webinar:
Click here to register!  https://members.blackandmarriedwithkids.com/biz-couples
We will send you emails in the days leading up to the webinar with reminders and information on how to access the webinar.
Space will be limited…so please make sure you register and try to join at least 10 to 15 minutes ahead of time to ensure your spot.
Date: October 17th
Time: 9PM ET
Hosts: Lamar and Ronnie Tyler – founders of BlackandMarriedwithkids.com
Special Guests: Charles and Arsha Jones – founders of Capital City, LLC
Sponsored by:  Wells Fargo
Disclosure: This is a sponsored post brought to you by Wells Fargo.  BMWK has collaborated with them on a Couples Financial Empowerment Series that includes panels and webinars focused on promoting financial education and wealth building in our community.
---
More available at BlackandMarriedwithKids.com. Link to article https://blackandmarriedwithkids.com/2017/10/free-couples-webinar-how-to-build-a-successful-business-with-your-spouse/?utm_source=rss&utm_medium=rss&utm_campaign=free-couples-webinar-how-to-build-a-successful-business-with-your-spouse.