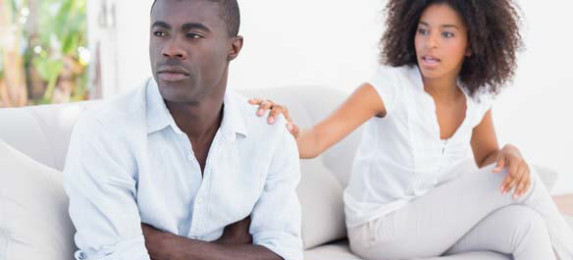 6 Fatal Mistakes Husbands Make After Their Wife's Affair and How to Avoid Them
By: Dr. Shane Perrault, PhD
You just found out your girl — or worse your wife — cheated. Ouch! That cheating #@&%^ #%$@! you say, but, much to your surprise, you still love her. What now? Leave, stay, forgive, forget? Your heart was just ripped out, your sense of trust is long gone, and you are outraged. So, why do you find yourself unable to leave?  You always thought, "I'm a strong man and this could never happen to me; and, if it did, I be out of there."
There really isn't a manual for how men should deal with their wife's or girlfriend's infidelity. Typically, relationship advice is written for women. But, not only do men process pain differently, they have poorer coping mechanisms, weaker support systems, and are much less likely to be accepted by society as a "victim."
So, what's a man to do? Here are six fatal mistakes husbands make after their wife's affair and how to avoid them.
Mistake #1: Feeling like her Infidelity is a reflection of your Manhood – or lack thereof.
Traumatized, betrayed, emasculated and conflicted — your first instinct is to find a silver bullet that will end your pain and give you closure, and your short-comings are the best place to start. While your ability to look within is admirable, you are better served by asking what was going on in the relationship at the time of the affair?
If you were both happy, you might simply want to accept you got a bad apple and leave. On the other hand, if you or both of you were unhappy, and unable to resolve your conflicts in a "win/win" fashion, then don't make a hasty decision. Be still! Now, don't get me wrong. You were betrayed and you rightfully feel devastated and disillusioned. I'm simply saying all isn't lost. Her infidelity may be a symptom of a greater problem, and not the problem itself.
Mistake #2: Feeling like you are alone.
It is estimated that roughly 30-60 percent of all married spouses will engage in infidelity at some point during their marriage — and those stats include women, too! You are not alone!
A study conducted in 2011 at Indiana University suggests women may have closed the infidelity gender gap as 23 percent of men and 19 percent of women reported having had an affair. These findings contradict the long held belief that men are significantly more likely to cheat than women, and are even more striking when you consider researchers have long noted a gender reporting bias whereby men generally add to their real number of affairs; women subtract.
Mistake #3: Rushing back into the relationship out of fear instead of taking time apart to figure out how you really feel.
Taking time to clear your head and get in touch with your feelings is wise. Yet most men rush back into the relationship prematurely out of fear that she will cheat again. This usually backfires. Instead of preventing her from desiring someone else, you typically make a bad situation worse by becoming an undesirable jealous maniac, or an unbearable detective – a persona you no doubt took on to avoid being hurt and deceived again.
That said, take some time and see if she is even worth it to you. Both you and her need to really think about the causes and long-term consequences of her affair – namely the reason underlying the betrayal and disrespect, and the deceit associated with the affair and the cover up. You and she may deserve better.
Mistake #4: "Bottling- up" or denying your feelings.
Be Real! You are deeply hurt, betrayed, disillusioned and likely devastated. Find someone to share and process those feelings. Men are much less likely to have a good support system. Your boys will likely say, "let's have a drink"; "just leave her"; or ask, "were you handling yours?" or better yet, "what's wrong with you for dealing with that crap?" All of those are valid questions, however, just because she cheated doesn't mean your love instantly died.
Ironically, female friends – assuming you even have any – aren't always the best in these situations either. As supportive and patient as they may be when their sister-girl needs help with her cheating man, they are much more likely to demand you "Man up" before long and either put your foot down or leave. Both genders will definitely make it clear before long that you should quit being a victim. Men just aren't given a pass when it comes to anything that resembles emotional weakness, at least not for long.
Mistake #5: Don't forgive her – but stay.
Her cheating was painful and your not forgiving it could be excruciating. But, the heart you save will be your own. I recognize it may seem unfair, but it is almost impossible to love or re-ignite the flame when someone is angry at you. Despite her feelings of guilt and regret, she won't be turned on by your prolonged rage and outbursts. Eventually, you will have to choose between your anger and your love, marriage, or family.
Mistake #6: Not getting professional help.
It is imperative that you accept your limitations. The bottom line is if you decide to stay in the relationship, you can't handle this one by yourself. To forgive and be forgiven, to hear and be heard by her, you will likely need the help of a skilled professional. Things will only get worse if staying in the marriage or relationship becomes signing up for another painful, unfulfilled tour of duty.
You will need to answer some important questions, and develop new skills to identify and meet each other's needs. You will also need to learn how to resolve conflict in a "Win/Win" versus "Win/Lose" fashion to develop a truly healthy and fulfilling relationship.
You will also have to recognize that while painful, the affair was most likely the symptom that brought you into therapy and not the problem itself. Face it, when a woman cheats it's almost always a result of "something else." Whether you got a bad apple or you weren't making her a priority, something went way wrong, and it needs to be addressed.
Finally, I have frequently seen affairs make marriages and relationships stronger, as therapy helps them to have some adult conversations and develop the skills to resolve the problems that would otherwise undermind them. I hope you are able to work through your challenges and get the love you both deserve. While Snow White now has a wart or two, life still has fairy-tale endings and "it's never too late to live happily ever after."
BMWK, Are you making these mistakes?
About the Author: Dr. Shane Perrault, PhD founded African American Marriage Counseling in 2004. In his private practice, he has partnered with over 2,500 couples to develop the skills to begin to hear (and be heard by) each other so they can make peace with the past and move past the pain, and learn to turn towards instead of on each other to overcome life's challenges and strengthen their families.
He received his doctorate in clinical psychology from the Ohio State University and completed his undergraduate studies at Southern University in Baton Rouge, LA. Dr. Shane is regularly invited to speak at church retreats, has spoken at the Congressional Black Caucus, blogs for Psychology Today, and is a media favorite who has been featured in Ebony and Essence magazines, the Washington Post and Washington Times, on Sirius/XM radio, BET and TV One.
He is committed to helping you and your partner live your happily ever after.
---
More available at BlackandMarriedwithKids.com. Link to article https://blackandmarriedwithkids.com/2017/10/infidelity-fatal-mistakes-husbands-make-after-their-wifes-affair-and-how-to-avoid-them/?utm_source=rss&utm_medium=rss&utm_campaign=infidelity-fatal-mistakes-husbands-make-after-their-wifes-affair-and-how-to-avoid-them.