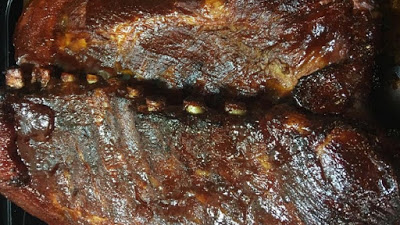 Sunday Dinner January 12, 2019
On the Menu
Jamaican Jerk Ribs
2 Racks
Ingredients
2 cups dark rum
4 tablespoons habanero chili powder
4 tablespoons dried chives
2 tablespoons dried onion flakes
2 tablespoons coarse sea salt
4 teaspoons ground coriander
4 teaspoons ground ginger
2 teaspoons thyme
2 teaspoons black pepper
2 teaspoons ground allspice
1 teaspoon ground cinnamon
½ teaspoon ground cloves
½ teaspoon ground nutmeg
Method
Remove silver from the backs of ribs. I use pliers to get a grip on one corner and pull hard to remove.
Place ribs in a nonreactive roasting pan.
Pour rum over ribs, turning a few times to coat evenly.
Cover and place in fridge, turning once every hour for 4 hours total.
Meanwhile combine all the spices in a blender or small food processor and pulse until you have a fine powder.
Drain ribs and pat dry with a paper towel.
Take one batch of jerk spice blend and rub into rib racks-both sides.
Wrap with plastic wrap and return to fridge for 1 hour.
Prepare grill for indirect grilling-use a drip pan if you don't want a huge greasy mess to clean up.
Add chips and place ribs on hot grates over drip pan.
Close lid and allow ribs to smoke for 1 hour and 30 minutes. Allow for 15 minutes either way, depending on the size of each rack.
When done remove ribs to a platter.
Sprinkle the remaining jerk spice blend on ribs.
Dirty Rice – for the New Age
8 Servings
Traditionally Cajun dirty rice is made with chicken liver or gizzards. We are going to take the dirt out of the rice and clean it up a little with ground turkey.
Ingredients
1 pound ground turkey/Vegertian1
1 tablespoon Worcestershire sauce
1 teaspoon granulated garlic
1 teaspoon granulated onion
½ teaspoon crushed red chili peppers
2 tablespoons grapeseed oil
½ cup bell pepper, chopped
2 cups rice, rinsed, drained
1 tablespoon tomato paste
½ – 1 teaspoon cayenne pepper
¼ cup freshly chopped parsley
Method
Place turkey in a bowl and season with salt, Worcestershire sauce, granulated garlic, onion, chili peppers and oregano, mix thoroughly, cover and refrigerate overnight.
In a large heavy sauté pan or pot, heat the oil over medium-high heat. Add the turkey and cook, stirring, until the meat is browned.
Add the onions, celery, bell peppers, garlic, rice and tomato paste continue sautéing until all ingredients are well combined.
Add the vegetable broth, salt, thyme, cayenne pepper and bay leaves; scrape the bottom of the pan to loosen any browned bits.
Bring to a boil, then lower the heat to the lowest setting and simmer for 16 minutes or according to the directions on the rice package.
Once cooking period has ended, remove pot from the heat and let rice sit covered 10 minutes.
Remove bay leaves, add parsley and fluff with a fork prior to serving.

1 Vegetarians use (tvp) textured vegetable protein or vegetables crumbles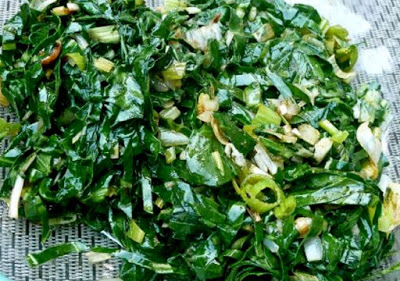 New Age Greens
4 – 6 Serving
Ingredients:
¼ – ½ teaspoon crushed red peppers
1 tablespoon chopped/minced garlic
2 pounds of greens (any greens), washed, cut into thin strips (chiffonade)
1 teaspoon garlic, granulated/powder
Method
Heat the olive oil in a large skillet or wok over medium high heat.
Add the crushed red chili peppers and sauté until peppers start to brown approximately 30 seconds. Lower the heat to medium, add the chopped garlic and continue sautéing approximately 1 minute, do not let the garlic brown. Add the greens, orange juice, granulated garlic, granulated onion, salt and pepper, mix until all ingredients are well incorporated.
Bring pan up to a boil, reduce heat to medium, cover and cook 15 – 30 minutes (depending on the greens), stirring occasionally.
That is a sufficient amount of time for the greens to be done. Taste for flavor and adjust seasoning accordingly.
Variations:
Onions and/or peppers (any variety or colors) can be sautéed with the garlic.

Any type of mushroom can also be added to the sauté prior to adding the greens.

Dried herbs i.e. oregano, rosemary, thyme, etc can be added for additional flavor.

Seasoning blends i.e. curry powder, Italian seasoning, garam masala, etc., for added flavor.
½ teaspoon liquid smoke1, hot sauce and vinegar can be added along with the juice.
Note: When you're dealing with bitter or pungent greens use sweet vegetables or fruit to sweeten the pot, red bell peppers, grated carrots, apple juice or pineapple juice. Caramelized (sautéed until golden brown) onions are very sweet and goes well with bitter greens caramelized tomatoes will work also.
Soulful Eating
Angelique and Joyce
1

Liquid smoke if you use too much will make your food bitter so be careful.
4 – 6 Servings
Ingredients
4 ears of corn, kernels removed from cob
1 tablespoon olive oil
1 medium red onion, chopped
3 cloves garlic, chopped
1 small red bell pepper, chopped
1 large jalapeno pepper, seeded, chopped
½ teaspoon sea salt
1 teaspoon granulated garlic
1 teaspoon granulated onion
½ teaspoon black pepper
Method
Heat oil in a sauce pan; add onions, garlic, peppers and sea salt. Saute on medium heat for 3 minutes.
Add corn and remaining ingredients, saute until all ingredients are thoroughly combined.
Cover and cook for 10 – 13 minutes. Remove from heat and let pan remained covered.
---
More available at NEW AGE SOUL FOOD. Link to article http://newagesoulfood.blogspot.com/2019/01/sunday-dinner-january-12-2019.html.