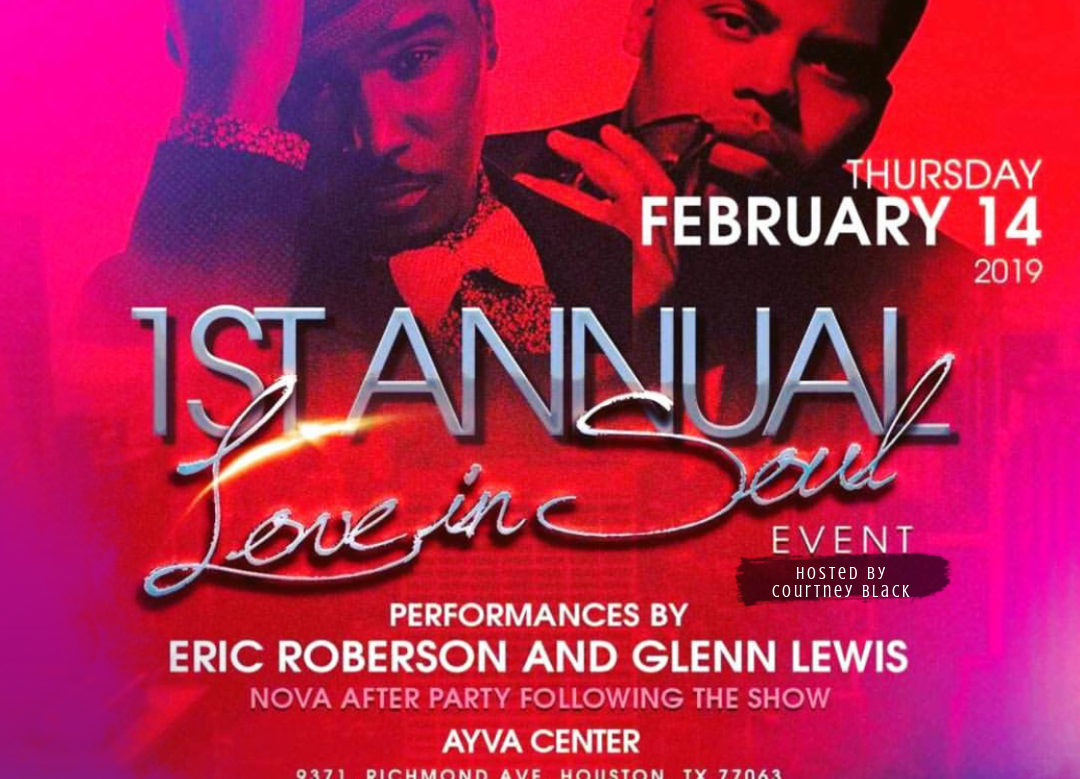 Love In Soul Series Valentine's Day Event – Houston 2019
Dallas, Texas (Jan 10, 2019) – Black Nova Management – Chris Strode announced the Events Division will host a series of exclusive events throughout 2019 with the first major event of the year in Houston, Texas at the Ayva Center. The Love In Soul Series Valentines' Day Event on February 14th, 2019, This night of gift giving will be set by melodic music from Award Winning Artists, Eric Roberson, Glenn Lewis and National Hostess Emcee Comedian & Radio Personality, Courtney Black.
The evening will honor Diamond, Platinum and Gold ticket guests a 5-Star, 3 course meal paired with wine from a sponsored vendor. All VIP guests will receive gift bags filled with exclusive products from national and local companies and some lucky general admission ticket guests will receive gift certificates from participating sponsors. Black Nova will host series of raffle ticket giveaways and a silent auction with 2 Gift Certificates from Houston's own Metcalf Fine Art Portraits, valued at $2000 each benefiting Mocha Cares Foundation, the Official Charitable Organization for The Love in Soul event.
Mocha Cares Foundation was created to be a 'voice' to empower both women and children in local shelters through mentorship programs. Black Nova has committed to support and contribute to this foundation as they continue to elevate women and children to be inspired, educated and elevated as they help them find housing and services to combat homelessness and domestic violence. To find out more information about this 501(c)(3) please visit www.mochacaresfoundation.com.
Black Nova Management is a joint partnership of privately-owned companies that have been in the entertainment industry for over 25 years combined. From big event weekends in sports, music and media industries, BNM has played an incremental and vital piece to the success of each event they've managed and implemented. Thank you to our partners Ayva Center, MyLyfe Productions, Mavtones Productions and Universe for your continued support! A special thanks to San Antonio Observer, Miles Ahead Entertainment and ME&C Inc for all of your assistance!
For tickets or more information please visit www.loveinsoul.com
Black Nova Enterprises
1717 McKinney Ave Ste 700, Dallas, Texas 75202
www.blacknovamgmt.com