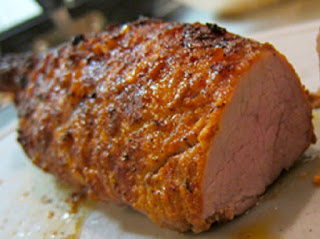 Sunday Dinner March 3, 2019
On the Menu
Garlic Ginger Pork Loin Roast
Yield: 4 to 6 servings
Ingredients
3 large cloves garlic, minced
Juice of 1 large lime or orange (about ¼ cup)
2 teaspoons Worcestershire sauce
2 teaspoons spicy mustard or Dijon mustard
1 tablespoon fresh ginger root, grated
1 teaspoon freshly ground pepper
2 ½ – 3 pounds boneless pork loin roast
Note To ensure that your meat is done use a thermometer and cook to the recommended temperature.
Method
In a large, zip lock bag; add garlic, onion, lime juice, honey, Worcestershire sauce, mustard, ginger, salt and pepper and squish the bag around to combine the marinade ingredients.
Add the pork loin and turn the bag over and over so the roast is covered with the marinade, squeeze out all the air and seal.
Remove roast from the refrigerator and let it come to room temperature in the bag before cooking.
Preheat oven to 350 degrees
Line a roasting pan with aluminum foil and place the roast in the pan.
Bake roast, uncovered, for 1 hour and 45 minutes or use a thermometer and cook until the internal temperature reaches 145 degrees.
Once roast is done, remove it from the oven and cover with foil.
Let roast rest 30 minutes before slicing.
Houston's Braised Cabbage (Copycat)
4 – 6 Servings
Ingredients
1 head red cabbage, shredded
½ cup white wine vinegar
¼ cup water
1 tablespoon olive oil
2 tablespoons brown sugar
goat cheese for garnish
Method
Preheat oven to 325 degrees
Add the vinegar, water, olive oil and brown sugar to a Dutch oven.
Heat on the stove and stir until the sugar is dissolved.
Add the cabbage, mix thoroughly then cover and cook for 15 minutes.
Place pot in the hot oven and braise for 1 hour.
Stir about every 20 minutes and if the liquid evaporates, just add a little water or orange juice.
Serve with a dollop of goat cheese.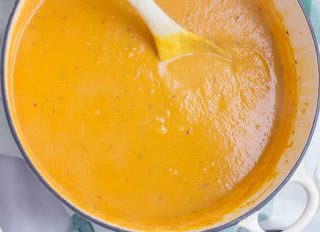 Sweet Potato and Chipotle Soup
8 Servings
Ingredients
1 tablespoon olive oil
1 medium onion, chopped
3 garlic cloves, minced
2 pounds sweet potatoes, peeled and cut
2 teaspoons sea salt
1 teaspoon granulated garlic
1 teaspoon granulated onion
2 teaspoons ground cumin
Method
In a large pot, heat oil over medium heat. Add onion and cook until onions start to brown around edges, about 6 minutes.
Add garlic and chipotle pepper cook with 1 teaspoon adobo sauce, about 1 minute.
Add sweet potatoes, mix thoroughly.
Pour in broth and seasonings.
Bring to a boil; reduce to a medium simmer and cook uncovered until sweet potatoes are tender, 20 – 25 minutes.
Working in batches, carefully transfer soup to a blender and puree until smooth or use an immersion blender.
Return pureed soup to pot, taste for flavor and if needed, adjust seasoning accordingly.
Note: Soup can be cooked 2 days in advance, just reheat and puree prior to serving.
Spring Mix Salad Greens with
Mandarin Oranges & Parmesan
4 – 6 Servings
Ingredients
4 mandarin orange, peeled and segmented
Freshly shaved Parmesan cheese
1 teaspoon granulated onion
½ teaspoon crushed red chili peppers
¼ cup extra virgin olive oil
1 teaspoon toasted sesame seed oil
Method
Place spring mix, orange segments and Parmesan cheese into a large bowl. Place the oranges vinegar and dry seasonings into a blender or food processor. Blend until orange segments and garlic are a pulp. Drizzle in the oil and continue processing until smooth and creamy. Any excess dressing should be stored in an air tight container and refrigerated up to 2 weeks.
Hibiscus Punch
1½ gallons
Ingredients1½ gallons water2 cups hibiscus flowers 3 or 4 star anise1 tablespoon allspice berries½ teaspoon whole cloves3 – 4 (4″) cinnamon sticks ¼ cup ginger pieces, dried or ½ cup freshly grated ginger root1 large orange, zest and juice2 – 2 ½ cups sugar
MethodWith the exception of the sugar, place all ingredients in a large pot and bring it to a boil. Reduce the heat to medium low and let pot simmer partially covered for 15 minutes.Remove pot from the heat cover completely and let tea steep for 1 hour.Strain punch into another pot and discard the ingredients. Strain punch again and add 2 cups of sugar. Taste for sweetness add the additional ½ cup if needed.Let punch cool then transfer to a punch bowl and refrigerate until cold.
---
More available at NEW AGE SOUL FOOD. Link to article http://newagesoulfood.blogspot.com/2019/03/sunday-dinner-march-3-2019.html.