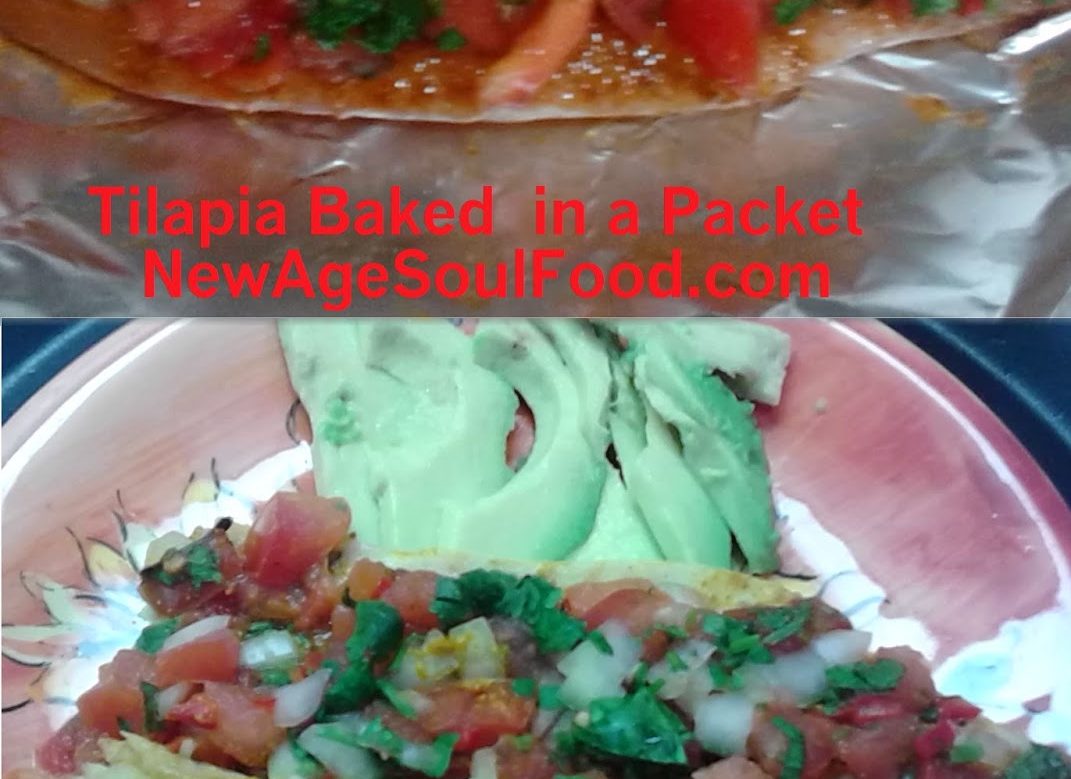 Sunday Dinner March10, 2019
On the Menu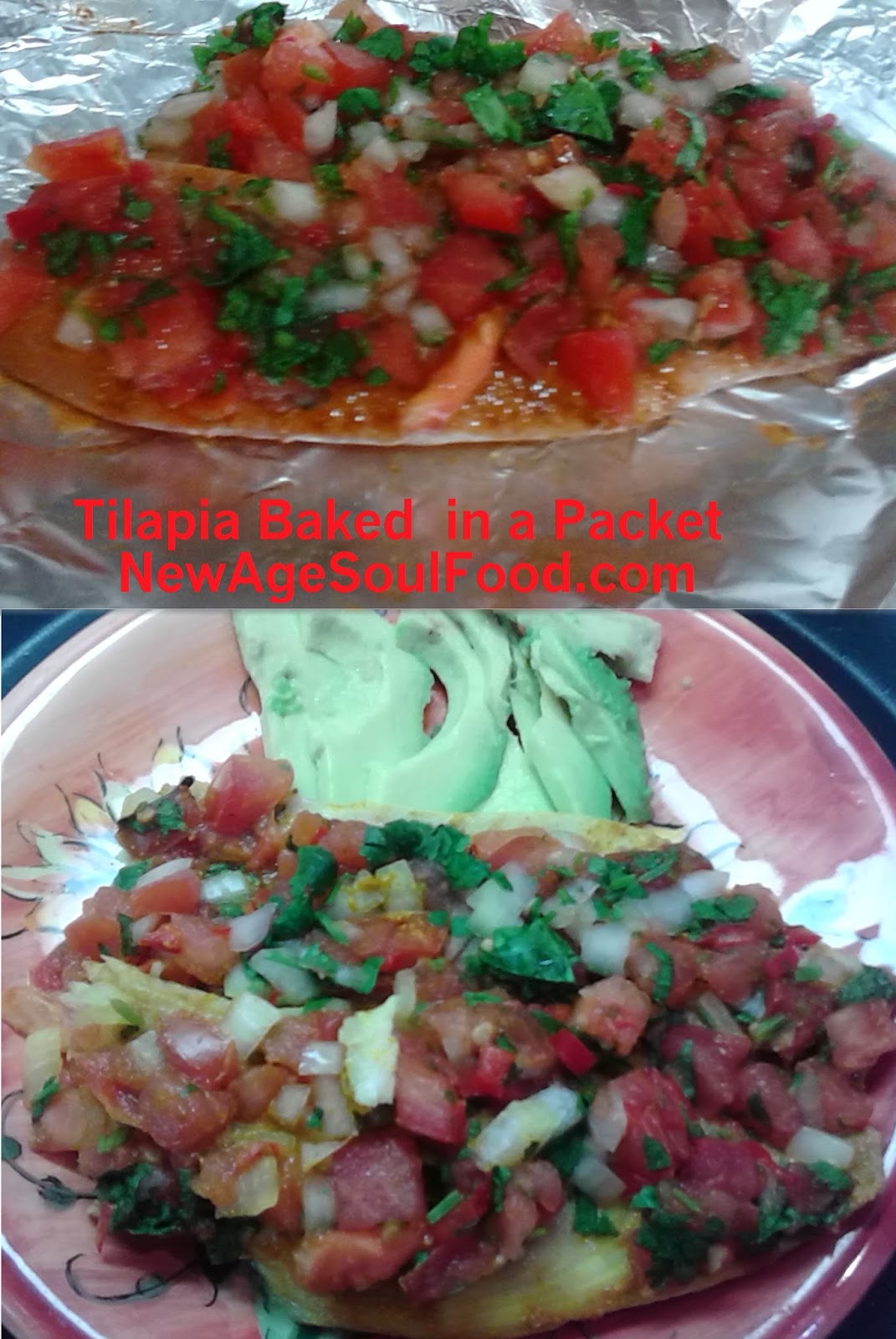 Mama Guzman's
Tilapia Baked in a Packet
4 Servings
Ingredients
4 (4 ounce) tilapia fillets
1 teaspoon sea salt
1 teaspoon granulated garlic
1 teaspoon granulated onion
½ teaspoon pepper or crushed red peppers
2 tomatoes diced
1 small onion diced
1 garlic clove, minced
1 jalapeno pepper, seeded, diced
¼ teaspoon sea salt
¼ teaspoon pepper
½ cup cilantro, chopped
½ lime, juiced
4 Sheets of aluminum foil (large enough to wrap fish)
Method
Preheat oven to 400 degrees F.
Rinse fillets and pat dry with a paper towel then place them on a plate and set aside.
In a small bowl, mix together the seasonings then sprinkle mixture over both sides of the fillets.
Cover the plate and let fillets sit in the refrigerator for 2 hours.
Meanwhile, mix together the salsa topping (you can place ingredients in a food processor and pulse until chopped).
Remove fillets from the refrigerator and place each one on a piece of foil.
Using a slotted spoon put the salsa on top of each piece of fish.
Fold the foil over the fillets and crimp the edges tight to seal.
Bake in a hot oven 15 minutes.
Remove from oven and let packets rest at least 8 minutes before opening.
Note: The last thing you want to do is over cook your fish. So place the packets in an oven that is heated to 400 degrees F. Cook for 15 minutes, remove from oven and away from heat, let the packet remain sealed for 8 minutes before opening.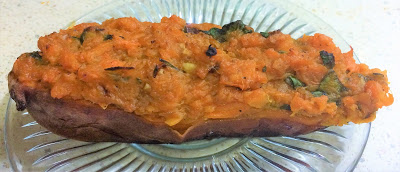 Chipotle Twice Baked Sweet Potato
4 – 8 Servings
Ingredients
4 sweet potatoes
1 lime, juiced
2 cloves garlic, minced
1 teaspoon cumin
1 teaspoon chili powder
1 whole chipotle pepper in adobo sauce, minced
2 cups spinach, coarsely chopped
¼ cup olive oil
Method
Preheat your oven to 400 degrees.
Spray a baking sheet with nonstick spray
Scrub your sweet potatoes clean and lay them on the baking sheet.
Roast in the oven until soft, somewhere in the range of 1 hour. Start checking them after 40 minutes if they are on the small side.
Remove the sweet potatoes from the oven and carefully slice them in half.
Scoop out the flesh and put it in a medium-sized mixing bowl.
Leave a little flesh on the potato to create a wall. Set the skins aside.
Once the flesh has been removed, mash it all up in the mixing bowl.
Add in the lime juice, minced garlic, cumin, chili powder, and minced chipotle in adobo sauce and mix until combined.
Stir in the spinach. The potatoes should still be hot enough to wilt them as they are mixed in.
Line the skins up on the baking tray. Stuff them with the chipotle sweet potato mixture and drizzle with olive oil then sprinkle on the cilantro.
Put them back in the oven for about 20 minutes until starting to brown.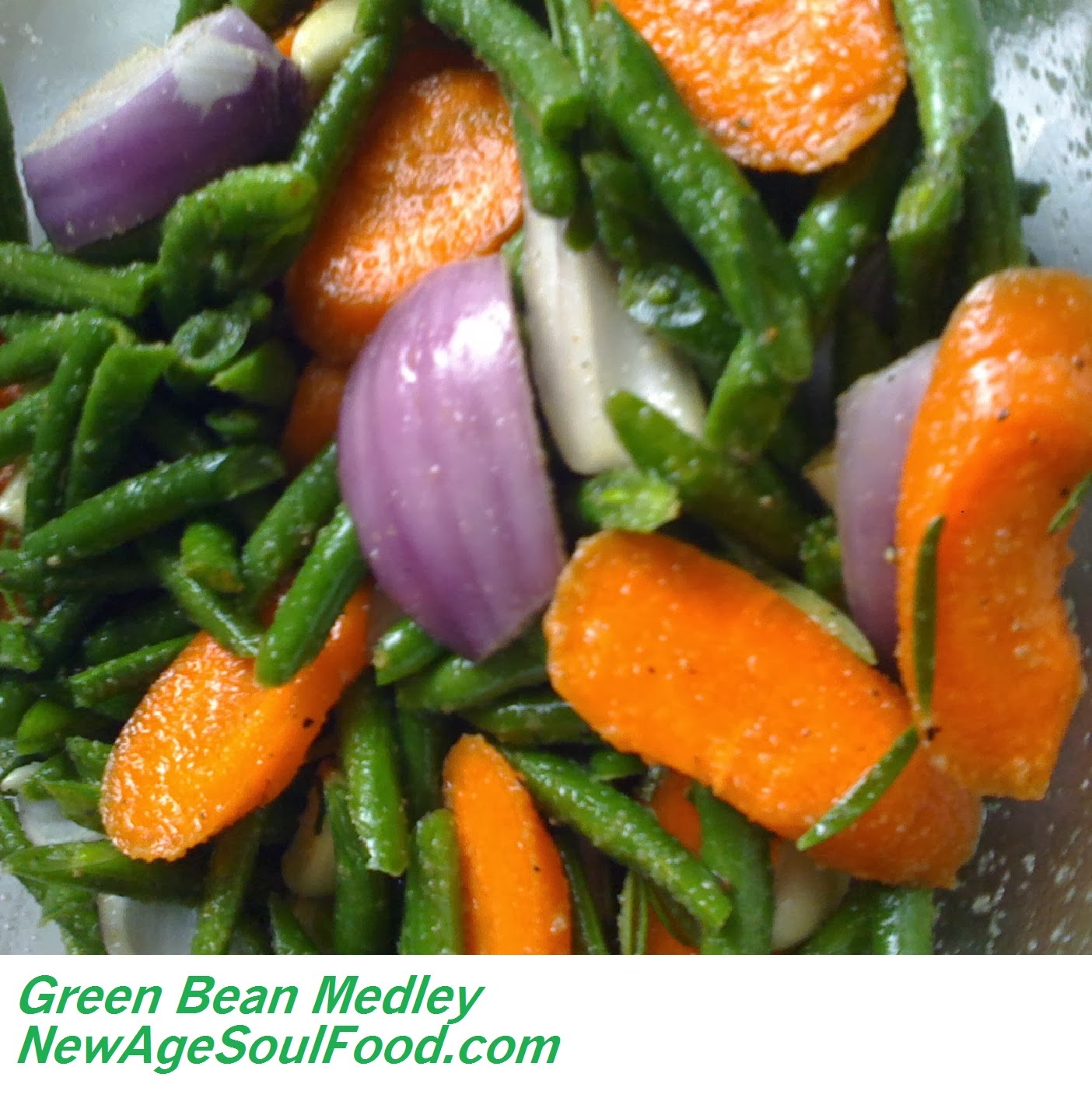 6Servings
Ingredients
1 lb green beans
2 tablespoons olive oil
2 medium carrots, sliced
1 medium red onion, sliced
½ teaspoon sea salt
1 teaspoon granulated garlic
½ teaspoon granulated onion
½ teaspoon pepper
½ cup of water
Method
String and snap the beans.
Heat a large frying pan on medium heat, add the olive oil, green beans, carrots, onions, salt, granulated garlic and onion and pepper.
Mix until vegetables are thoroughly coated in oil and seasoning.
Add the water bring to a boil then reduce heat to low cover and cook 5 – 10 minutes or until onions are translucent.
Remove from heat and serve hot.
The New Age Olive Garden Salad
6 – 8 Servings
Ingredients
½ head romaine lettuce, sliced
½ head red leaf lettuce, sliced
2 Roma tomatoes cut into eighths
6 – 8 black olives
6 – 8 pepperoncini or banana peppers
½ medium red onion, sliced
½ cup croutons
½ cup freshly sliced Parmesan cheese
For the New Age Dressing:
(Traditional dressing listed below)
½ cup vegan mayo
½ cup white wine vinegar
2 tablespoons orange juice
1 teaspoon granulated garlic
1 teaspoon granulated onion
½ teaspoon Italian seasoning
1 teaspoon dried oregano
½ teaspoon sea salt
½ teaspoon crushed red chili pepper
Method
Chill your salad bowl in the freezer for at least 30 minutes. Once bowl is chilled, add the lettuce then top them with onions, olives, pepperoncini, tomatoes, croutons and cheese.
For the Dressing:
Combine all the ingredients in a blender until well mixed. If this is a little too tart for your own personal taste, add a little honey
Keep dressing for up to 10 days if you store it in an airtight container in the refrigerator.
Traditional Olive Garden dressing:
½ cup mayonnaise
⅓ cup white vinegar
1 teaspoon vegetable oil
2 tablespoons light corn syrup
2 tablespoons grated Parmesan cheese
2 tablespoons grated Romano cheese
¼ teaspoon garlic salt, or 1 garlic clove, minced
½ teaspoon dried Italian seasoning
½ teaspoon dried parsley flakes
1 tablespoon lemon juice
Method:
Combine all the ingredients in a blender until well mixed.
---
More available at NEW AGE SOUL FOOD. Link to article http://newagesoulfood.blogspot.com/2019/03/sunday-dinner-march10-2019.html.