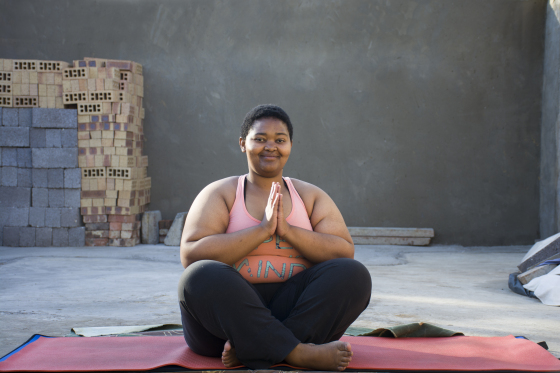 Don't Think The Images You See In Media Represent You? Project #ShowUs Is Changing That.
Working in fashion and beauty, I often have conversations with women who discuss that they didn't see images of themselves growing up, leading to insecurities, low self-esteem and more. According to a Dove study, 7/10 women say that better representation would enable girls to grow up without being judged on their looks. As young girls, we have the pressures and expectations that society has for our bodies and our worth imposed on us through imagery and media on a daily basis before we are even able to comprehend what is happening. However, Dove in partnership with Girlgaze, an organization committed to closing the gender gap as well as Getty Images, a prominent stock photography site, teamed up to work on Project #ShowUs.
Project #ShowUs is a campaign that is slowly infiltrating the images that we see on a daily basis. On Thursday morning, at Hearst Towers, Dove, Girlgaze and Getty Images revealed Project #ShowUs which is a collection of images (with more to come) of women (however you choose to define the word) that look like well, women. The collection shows fat women, women with scars, agender women, trans women, as well as disabled women. The purpose of the project is to introduce images into media that are representative of our world.
#ShowUs has been in the works for the past 18 months and was a "background" project for Getty (meaning that the team allocated their time to create this vs it being a slated project). Rebecca Swift, Director of Creative Planning, Getty Images revealed, "Suddenly you wake up and realize you are the person that has the power to make change. There are no other stock agencies that has a female as a senior creative. You can use your power to maintain the status quo or you can use it to change the status quo." Swift along with Girlgaze founder Amanda de Cadenet and Dove decided to change the status quo.
Shot by all women photographers sourced from Girlgaze, there are 5000 images that will be open sourced for media to use featuring a multitude of women that represent what we look like, not what media thinks we should look like. To take it a step further, the women were allowed to tag the images themselves. The significance in this is for media and advertisers searching for images, Personally, when I'm using stock image sites, looking for images of Black women could take me an hour or more, depending on what I'm looking for and often, I don't even find what I'm looking for. Also, the ways women are depicted can be somewhat monolithic. For example, if I'm looking for an image of a larger woman, it doesn't have to equate her being on a scale.
In tandem with #ShowUs, Dove released a video to illustrate the purpose behind the project. The emotional video shows how images can affect girls' and the psyche of women. The video boldy asks, "What if we could show you a vision of beauty where no woman or girl was excluded?" That's exactly what Project #ShowUs is. The images will be open source and provided to media for free. How cool!
What do you think of Project #ShowUs? Sound off in the comment section.
---
More available at madamenoire.com. Link to article https://madamenoire.com/1068048/project-showus/.