[if gte mso 9]
Cinco de Mayo Sunday
Yellow Rice – Arroz Amarillo

Carne Asada (Citrus Grilled Skirt Steak)
Ms. Mandry's Yellow Rice – Arroz Amarillo
2 tablespoons garlic sofrito
½ cup onion and pepper sofrito
3 cups rice, rinsed and drained
Boiling water to cover by 1 inch
In a heavy large pot with a tight fitting lid, heat the oil. Add the garlic and onion/pepper sofrito and sauté over medium heat until all liquid is absorbed. Add the rice and continue sautéing about 3 minutes. Add the boiling water, just enough to cover the rice by about 1 inch. Bring the pot up to a boil lower the heat to a simmer and cover with a tight lid. If you do not have a tight fitting lid, cover the pot first with foil and then put on the lid. Crimp foil around the pot so that no seam is escaping. Cook rice 15 minutes then redistribute the rice by gently folding/turning it from the bottom of the pot to the top with a large fork. If rice is done, cover and remove it from the heat.
If it needs more time, add more water if needed and continue cooking checking and redistributing every 15 minutes until rice is done.
Note: I always use a long grain brow rice therefore the rice will not be yellow. It also takes approximately 45 minutes to cook.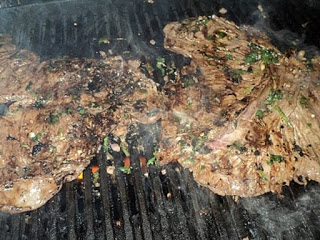 Carne Asada (Citrus Grilled Skirt Steak)
4 Servings
Ingredients
3 garlic cloves, roughly chopped
1 teaspoon granulated garlic
1 teaspoon granulated onion
½ teaspoon crushed red chili peppers
½ teaspoon ground black pepper
1 (2-pound) piece skirt steak
Method
Using a food processor or blender, puree the olive oil, orange juice, lime juice, cilantro, sea salt, granulated garlic, onion, crushed chili peppers, cumin and black pepper
Place the skirt steak in a baking dish, add the marinade, cover and refrigerate.
Marinate for at least 1 hour, preferably several hours.
Preheat the grill to medium-high. Remove the steak from the baking dish and discard the marinade.
Place the steak on the grill and grill about 4 to 6 minutes for medium-rare to medium. Remove from grill to a cutting board and let rest for about 5 minutes. Slice into thin pieces at a diagonal.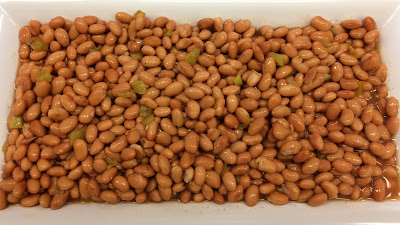 Pinto Beans (Mexican Style)
8 – 10 Servings
Ingredients
1 tablespoon grapeseed oil
3 jalapeno peppers – 2 seeded & sliced, 1 sliced
1 pound dried pinto beans, sorted and rinsed
1 tablespoon granulated garlic
1 tablespoon granulated onion
2 teaspoons ground coriander
Method
Heat oil in a large stock pot, add the jalapeno peppers and onions and saute until onions are translucent.
Carefully pour in the water, add beans and seasonings, mix thoroughly.
Partially cover the pot with a lid and cook over medium low heat for 2 hours or until beans are tender. Stir beans occasionally and add more water 1 cup at a time if needed.
Remove bay leaf before serving.
6- 8 Servings
Ingredients
1 small red onion/scallion, diced
3 tablespoons extra virgin olive oil
½ teaspoon freshly ground black pepper
½ cup cilantro, julienned
Method
For the raw version, cut corn off the cob, rinse and let drain in a colander.
For the cooked version:
In a large pot of boiling salted water, cook the corn for 3 minutes until the starchiness is just gone.
Drain and immerse it in ice water to stop the cooking and to set the color. When the corn is cool, cut the kernels off the cob, cutting close to the cob.
Raw/Cooked version:
Toss the kernels in a large bowl with the red onions or scallion, tomato, jalapeno pepper, lime juice, olive oil, salt, and pepper. Just before serving, toss in the fresh cilantro
Taste for seasonings and serve cold or at room temperature.
Pico de Gallo
6 Servings
Ingredients
3 tablespoons chopped fresh cilantro
¼ jalapeno pepper, seeded and minced
¼
–
½
chipotle pepper in adobo sauce, minced
¼ teaspoon granulated garlic
freshly ground black pepper to taste
Method
Stir the tomatoes, onion, cilantro, jalapeno pepper,chipotle, lime juice, garlic, garlic powder, cumin, salt, and pepper together in a bowl. Refrigerate at least 3 hours before serving.
10 Servings
Ingredients
1 tablespoon black pepper
Method
Cut pork into large pieces.

Season pieces with salt and pepper
Heat oil in a large sauce pan then sear pieces in the hot oil, browning all sides.
Add orange juice, onions, bay leaves and season again with salt and pepper.
Cover and simmer 1 hour or until pork is tender.
Remove bay leaves and shred pork before serving.
Ingredients
2 avocados, fairly soft, peeled and pit removed
¼ teaspoon white wine vinegar
¼ teaspoon freshly ground black pepper
¼
teaspoon granulated garlic
1 jalapeno pepper, minced
2 tablespoons chopped cilantro
Method
In a medium bowl, mash avocado and mix with lime juice and vinegar.
Stir in the salt, pepper, cumin, and granulated garlic .
Mix in red onion, jalapeno pepper, cilantro, and chopped tomato.
To prevent guacamole from oxidizing (turning dark) – wipe a piece of cling wrap lightly with oil and spread it directly on the surface of the guacamole after it's put in the container, then put the top on. This will keep guacamole green for days.
Yields 2 cups
Ingredients
¾ cup chopped fresh cilantro (one small bunch)
1 whole jalapeno, minced (seeds removed if you prefer less heat)
Method
Chop up the strawberries and mango into very small bits.
Place in a bowl with the cilantro, minced red onion and minced jalapeno.
Add maple syrup and lime juice and stir well.
Watercress and Spinach Salad
Ingredients
6 ounces, watercress, washed, drained
10 ounces baby spinach, washed, drained
½ cup baby tomatoes cut into quarters
1 cucumber, diced
1 red onion sliced, thin
1 red pepper, sliced or diced
¼
cup freshly squeezed orange juice
¼
cup extra virgin olive oil
½ teaspoon granulated garlic
½ teaspoon crushed red chili peppers
freshly ground black pepper
Method
Combine watercress, spinach, mint, tomatoes, cucumbers, onion and red peppers in a large bowl.
Combine lime juice, orange juice, olive oil, salt, garlic, crushed red chili peppers in a blender and puree until all ingredients are thoroughly combined.
Just before serving toss the salad with the dressing.
Cut the avocado and place on top of the salad, squirt with some lime juice.
Coat with freshly ground black pepper.
---
More available at NEW AGE SOUL FOOD. Link to article http://newagesoulfood.blogspot.com/2019/05/cinco-de-mayo-sunday.html.