[if gte mso 9]
Sunday Dinner May 18, 2019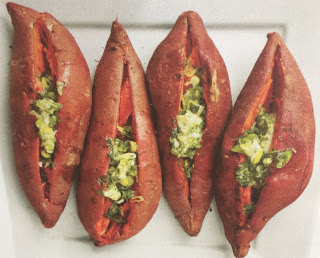 Sweet Potatoes with Avocado and Dill
4 Servings
Ingredients
4 Sweet Potatoes
1 avocado
1 tablespoon fresh dill, chopped
¼ cup scallions, chopped
juice of ½ lime
½ teaspoon sea salt
freshly ground pepper to taste
Method
Preheat oven to 400 degrees F
Prick potatoes with a folk and place on a baking sheet. Place in a preheated oven and bake until potatoes are tender.
Remove the avocado pit and scoop the flesh into as a bowl. Add the dill, scallion, lime juice, sea salt and freshly ground pepper. Mix with a folk while mashing the until all ingredients are well combined.
Cut open the potatoes and top with the avocado.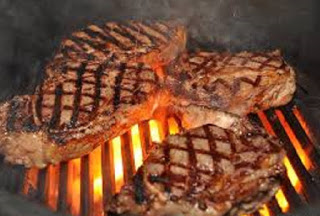 Tex-Mex Grilled Rib Eye Steaks
8 rib-eye steaks (6 ounces each)
1 cup Tex-Mex Dry Rub – listed below
Olive oil for brushing the steaks
2 cups Tex-Mex Barbecue Sauce – listed below
Preheat a gas or charcoal grill to high. Rub each steak on both side with the dry rub, refrigerate at least 3 hours or overnight.
Drizzle olive oil over both sides of steaks and grill until golden brown, 3 to 4 minutes.
Turn over and continue grilling 4 to 5 minutes for medium rare.
Place on a large serving platter and brush with Tex-Mex Barbecue Sauce before serving.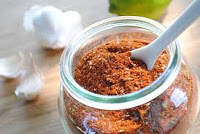 Note: This rub can be used on beef, lamb, poultry and seafood.
1 tablespoon cumin, ground
1 tablespoon coriander, ground
2 teaspoons oregano, dried
1 teaspoon annatto, ground
1 teaspoon turmeric, ground
Combine all the ingredients in a small bowl. Store extra will keep in a tightly covered glass jar for several months.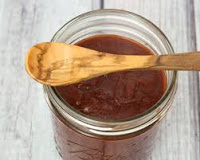 1 medium yellow or white onion, finely, chopped
2 large cloves garlic, minced or 1 tablespoon chopped
6 ounces tomato paste
1 cup apple cider vinegar
2 cups pineapple juice w/o sugar added
2 tablespoons Worcestershire sauce
1/4 teaspoon liquid smoke
1 teaspoon sea salt
2 tablespoons dark brown sugar
1 tablespoon molasses (not black strap)
Method
In a large saucepan, add oil, onion and garlic then sauté on medium low heat until onions are caramel in color, stirring occasionally.
Turn heat down slightly and mix in the tomato paste.
Add vinegar, pineapple juice, Worcestershire sauce, salt, liquid smoke, sugar, molasses and rub. Allow sauce to cook gently on medium low heat, uncovered thirty minutes to an hour, stirring occasionally.
If you want a smooth sauce, puree before using.
Black Bean Soup with Roasted Vegetables
8 Servings
Ingredients
6 tomatoes cut in half
1 large onion, cut into quarters, with core in tact
6 garlic cloves, peeled
1 bell pepper, seeded, halved
1 tablespoons olive oil
½ teaspoon sea salt
½ teaspoon granulated garlic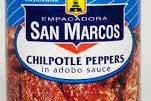 2 teaspoons cumin
1 teaspoon oregano
¼ cup cilantro, coarsely chopped
1 avocado for garnish
Method
Preheat an oven to 350 degrees F.
Place the tomatoes, onion and garlic into a large bowl. Toss with the olive oil and season with salt, pepper and granulated garlic to taste.
Transfer vegetables to 2 sheet pans then roast for 30 minutes, or until vegetables turn slightly brown.
Transfer the roasted vegetables to a large saucepan over medium heat; add the black beans, vegetable broth, chipotle pepper with 1 teaspoon adobo sauce, beans, chili powder, cumin and oregano.
Simmer on low for about 30 minutes.
Transfer the soup to a blender or food processor along with the fresh cilantro and puree.
Garnish with slices of avocado .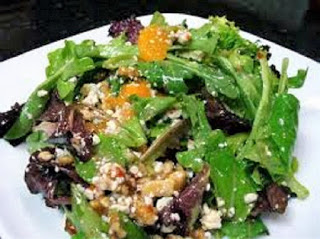 ½ cup blue cheese, crumbled
In a large bowl, toss the salad greens, oranges, blue cheese and pecans.
Just prior to serving, add the dressing and toss until thoroughly mixed. Do not saturate greens with dressing ¼ cup is sufficient to moisten and flavor the salad.
---
More available at NEW AGE SOUL FOOD. Link to article http://newagesoulfood.blogspot.com/2019/05/sunday-dinner-may-18-2019.html.