[about a half inch dice]
Sunday Dinner December 8, 2019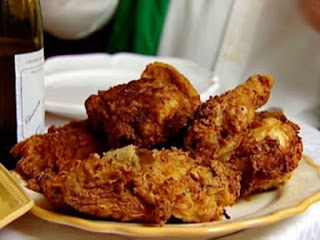 1 broiler/fryer chicken, cut into 8 pieces
2 cups low fat buttermilk
1 tablespoon +1 teaspoon sea salt – divided
2 tablespoons smoked paprika – divided
2 teaspoons garlic powder – divided
2 teaspoons onion powder – divided
1 teaspoon cayenne pepper or Cajun/Creole seasoning
Line a cookie sheet with parchment paper or spray sheet lightly with oil and set aside.
Place buttermilk, 1 tablespoon salt, 1 tablespoon paprika, 1 teaspoon garlic powder, 1 teaspoon onion powder, cayenne pepper and chicken in a plastic container, shake thoroughly making sure seasoning is evenly dispersed throughout the mixture.
Refrigerate overnight or for 24 hours.
Drain chicken in a colander, 30 – 45 minutes.
Combine flour, cornmeal, the remaining sea salt, smoked paprika, garlic powder, onion powder and thyme in a paper bag large enough to shake the chicken in.
Shake off any excess buttermilk then place chicken in the bag 2 – 3 pieces at a time. Shake bag until chicken is coated then knock off excess breading. Place chicken on the prepared sheet pan.
Space chicken in pan so that the pieces are not touching. If pieces are too close, it will prevent the heat from circulating around the chicken and stop it from becoming crunchy.
Bake in a 350 degree oven uncovered 45 minutes or if you are using a meat thermometer chicken is done when the internal temperature reaches 165 degrees. There is no need to turn the chicken, both sides will brown.
At the end of the cooking period, remove pan from oven and away from the heat. Let chicken rest undisturbed 8 minutes prior to serving.
Use tongs when handling the chicken so that you do not poke holes in it and release the juices prematurely.
Now tell me this chicken ain't finger licking good!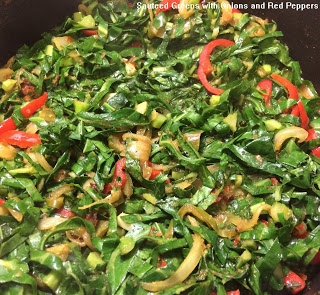 Sautéed Greens with Caramelized Onions and Red Peppers
2 pounds collards, kale or any greens, washed, chopped
¼ – ½ teaspoon crushed red chili peppers
3 – 4 cloves garlic, minced or sliced
1 medium – large red bell pepper, sliced thin
½ cup orange juice or 1 large orange, juiced
2 teaspoons oregano or dried herb
Heat the olive oil in a large skillet or wok. Add the crushed red chili peppers, sliced onions and ½ teaspoon salt. Sautee the onions over medium heat until they are caramel in color, do not let them burn. Add the garlic and red bell peppers; continue sautéing approximately 3 minutes. Add the greens, orange juice, 1 teaspoon salt, pepper and dry herb; mix until all ingredients are well incorporated.

Bring pan up to a boil, reduce heat to medium, cover and cook 15 – 30 minutes, stirring occasionally.

That is a sufficient amount of time for the greens to be done. Taste for flavor and adjust seasoning accordingly.
Add the rosemary and mix thoroughly by hand.
Add chili peppers, salt, onion and garlic powder and mix thoroughly.
Add olive oil and minced garlic and mix until every potato is well coated.
Place potatoes on the sprayed baking sheet and bake in a preheated oven 30 minutes or until they are golden brown and tender.
Garnish with parsley and serve hot.
Mom could eat potatoes everyday and honestly, so could I. But so much of today's research is suggesting we shouldn't eat potatoes at all especially not white potatoes. There's no way that will happen in our house. One of the biggest problems we have with potatoes is that they are grown underground meaning most are filled with pesticides. In fact, potatoes are considered so toxic, they are on the "Dirty Dozen" list of foods we should only eat if grown in an organic environment. So grab yourself some organic red potatoes and enjoy!
1 pound baby red bliss potatoes, halved or quartered (depending on size)
1 tablespoon fresh rosemary, minced or 1 teaspoon ground rosemary
¼ teaspoon crushed red chili peppers
1 tablespoon minced garlic
½ cup fresh parsley, chopped

Method
Lightly oil/spray a baking sheet
24 hours prior to cooking, prep potatoes by scrubbing with a vegetable brush to remove dirt. If potatoes are larger than 1 inch in length, cut them in half.
Cover potatoes with cold water squeeze in the juice of ½ lemon then add lemon rind to water. Refrigerate and let potatoes soak overnight.
Remove potatoes from refrigerator and let drain in a colander. Blot potatoes with a paper towel to remove excess liquid then place them in a large bowl.
Ingredients:
4 large Roma tomatoes, ½" dice
1 large red bell pepper, ½" dice
1 large green bell pepper, ½" dice
1 medium red onion, sliced
3 large cucumbers, seeded, diced
1 head red leaf lettuce, chopped
½ cup extra virgin olive oil
Dice tomatoes, bell peppers, onions and feta [about a half inch dice].
Cut cucumber in half [lengthwise], scoop out the seeds with a spoon and dice.
Slice or cut olives in half. Combine all ingredients in a large bowl.
Thoroughly whisk together all the dressing ingredients and pour ½ of the dressing over the vegetables. Mix thoroughly and refrigerate at least 2 hours prior to serving.
Serve on a bed of red leaf lettuce, add more dressing if needed.
Remaining dressing can also be used as a marinade for meat, fish or vegetables.
1 tablespoon sea salt – Divided
1 teaspoon granulated garlic
¼ cup olive oil – Divided
1 teaspoon pumpkin spice mix
Preheat oven to 450 degrees
Slice squash lengthwise and remove seeds
Wash sweet potato and cut in half lengthwise
Brush the inside of the potato & squash lightly with olive oil then sprinkle lightly with salt, pepper and garlic powder.
Bake in oven 45 minutes or until tender. The potato will get done before the squash, so remove it when it's done.
Once they are cool enough to handle, remove skin from the potato and scoop the squash out of its skin with a tablespoon. Mash both the potato and squash with a potato masher. Add vegetable broth to a large stockpot and place over medium heat.
Add mashed vegetables to the broth.
Sprinkle in the remaining salt, coriander and pumpkin spice then mix thoroughly.
Bring soup to a boil then reduce heat to medium low. Cook uncovered 30 – 45 minutes or until soup thickens, stirring occasionally.
If you have an immersion blender (hand blender), puree the soup in the pot.
If you do not have an immersion blender, transfer soup in batches to a food processor or blender and puree; then return it to the pot.
Check for seasoning and add pumpkin spice/salt – ½ teaspoon at a time if needed.
Bring the soup back up to a boil then reduce heat to medium low.
Continue cooking uncovered an additional 15 minutes or until it reaches the desired thickness. Keep in mind that once the soup sets, it will become twice as thick.
---
More available at NEW AGE SOUL FOOD. Link to article http://newagesoulfood.blogspot.com/2019/12/sunday-dinner-december-8-2019.html.