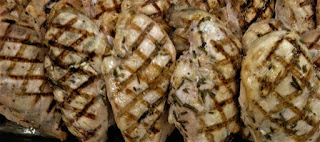 Sunday Dinner December 15, 2019
On the Menu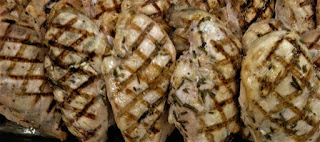 Grilled Southwestern Chicken Breast
4 Servings
4 – 6 ounce chicken breast
½ cup fresh cilantro or parsley chopped
1 heaping tablespoon minced garlic
3 tablespoons vegetable oil
1 teaspoon granulated onion powder
¼ – ½ teaspoon black or red chili pepper
Place chicken breasts in a shallow baking pan, or zip lock bag.
In a blender puree the marinade ingredients, or in a small bowl, whisk together the ingredients.
Pour over chicken and turn pieces to coat evenly, cover and chill at least 1 hour or overnight.
Preheat oven to 350 degrees F.
Spray or wipe a sheet pan (cookie sheet) with oil and set aside.
Place chicken on the counter and let it come to room chicken.
Picture a clock, find the 10 o'clock position and place the top of breast on a hot grill or grill pan with the smooth side facing the grill.
Cook without moving it until you see the outer rim of the breast change color about 3 – 5 minutes.
Using tongs, pick up the breast and now turn the top of it to the 2 o'clock position. This will complete the criss cross marks (you are only putting grill marks on the top side of the chicken).
Grill another 3 minutes then remove from grill.
Place chicken breast with the grill marks facing up on the cookie sheet then place in a preheated oven.
Cook breast uncovered approximately 45 minutes or until a meat thermometer, inserted into the thickest part of the breast reaches 165 degrees F.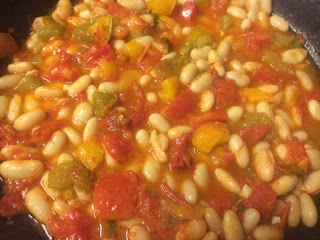 White Beans with Roasted Tomatoes and Peppers
6 Servings
Ingredients
1 cup of white beans (great northern, cannelloni or navy)
2 teaspoons granulated garlic – Divided
2 teaspoons granulated onion – Divided
2 teaspoons basil, dried – Divided
1½ teaspoon sea salt – Divided
3 medium jalapeno peppers
Method
Place beans, water, bay leaves 1½ teaspoons garlic, 1½ teaspoons onion, 1½ teaspoons basil,1 teaspoon salt and the pepper in a medium pot and cook partially covered 1 ½ – 2 hours.
While beans are cooking, preheat oven 400 degrees F.
In a medium bowl, whisk together the olive oil and the remaining ½ teaspoon garlic, ½ teaspoon onion, ½ teaspoon basil and ½ teaspoon sea salt.
Half the tomatoes and add them to the olive oil mixture.
Cut the pepper in half and remove the seeds and vein and add them to the olive oil along with the garlic cloves.
Mix the tomatoes, peppers and garlic in the oil mixture until everything is well coated.
Place vegetables on a sheet pan and roast in the oven 15 – 20 minutes or until vegetables are brown; they do not have to be done.
Let vegetables cool down enough to handle then dice and add to the beans along with any leftover oil.
Continue cooking until beans are tender, stirring occasionally.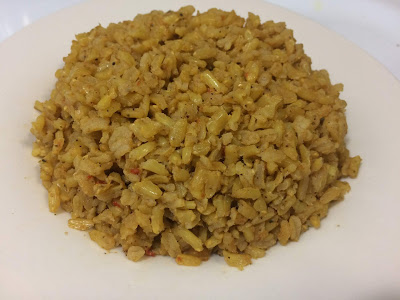 ½ cup onion and pepper sofrito
3 cups rice, rinsed and drained
Boiling water to cover by 1 inch
In a heavy large pot with a tight fitting lid, heat the oil. Add the garlic and onion/pepper sofrito and sauté over medium heat until all liquid is absorbed. Add the rice and continue sautéing about 3 minutes. Add the boiling water, just enough to cover the rice by about 1 inch. Bring the pot up to a boil lower the heat to a simmer and cover with a tight lid. If you do not have a tight fitting lid, cover the pot first with foil and then put on the lid. Crimp foil around the pot so that no seam is escaping. Cook rice 15 minutes then redistribute the rice by gently folding/turning it from the bottom of the pot to the top with a large fork. If rice is done, cover and remove it from the heat.
If it needs more time, add more water if needed and continue cooking checking and redistributing every 15 minutes and rice is done.
Note: I always use a long grain brow rice therefore the rice will not be yellow. It also takes approximately 45 minutes to cook.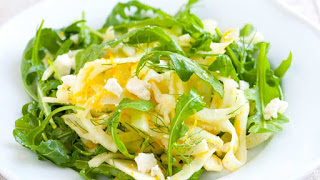 4 Servings
Note: I love to mix arugula with spinach or you can use spinach instead of arugula. Either way it's a very delicious salad.
Ingredients
For the Salad
12 ounce arugula or spinach
1 large fennel bulb, sliced thin
For the Dressing:
1 large orange, juiced
¼ cup apple cider vinegar
½ teaspoon salt
1 teaspoon garlic, minced
½ teaspoon crushed red chili peppers
½ cup extra virgin olive oil
Method
For the salad
Wash the fennel bulb, remove stems and leaves slice bulb in half and remove the core then cut in thin slices as you would an onion.
In a large bowl add the arugula and sliced fennel. Coarsely chop some of the leaves and toss them in a bowl.
Use remaining leaves as you would parsley or dill and the stems as you would scallions or onions.
For the dressing
Place juices, vinegar, salt, garlic and peppers in a blender or use a hand wand and puree. Gradually drizzle in oil and continue pureeing until dressing thickens.
Pour ¼ cup of dressing over salad and mix thoroughly.
Store remaining dressing in a glass container and refrigerate up to 3 weeks.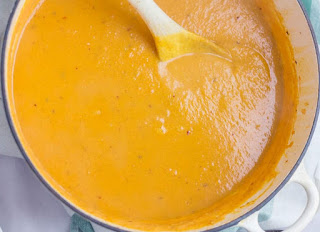 6 Servings
Ingredients
1 tablespoon coriander seeds
2 teaspoons dried oregano
1 tablespoon fennel seeds
½ teaspoon crushed red pepper
½ teaspoon whole black peppercorns
2 tablespoons olive oil, divided
4 orange-fleshed sweet potatoes
2 stalks celery, roughly chopped
1 ½ quarts vegetable broth
Method
Preheat oven to 400 degrees
In a blender or coffee grinder, grind coriander, cumin, oregano, fennel, red pepper and peppercorns into a coarse powder.
Place ½ of the seasoning blend in a small container with 1 tablespoon of olive oil and mix until it's a paste.
Wash pumpkin, cut it in half and remove the seeds.
Wash sweet potatoes and cut them in half lengthwise.
Smear the inside of pumpkin and potatoes with the spice paste and place them in a baking dish.
Roast pumpkin and potatoes in the preheated oven 40 minutes or until they are tender.
Meanwhile, in a large pot over medium heat add the remaining tablespoon of olive oil, onions, celery and garlic and sauté until onions are translucent.
Add vegetable broth, salt and remaining spices, simmer uncovered on low.
Once pumpkin and potatoes are cool enough to handle, scoop them out of the skin.
Mix pulp in with the vegetable broth and using a food processor or immersion blender, puree soup until it's smooth and creamy.
Or you can remove pot from the heat mash the pulp with a potato masher and whisk until it's smooth.
Cook an additional 15 minutes to allow flavors to blend, stirring occasionally.
---
More available at NEW AGE SOUL FOOD. Link to article http://newagesoulfood.blogspot.com/2019/12/sunday-dinner-december-15-2019.html.